American AirLights | Advertising Locations
American AirLights can operate just about anywhere, but below are some examples of locations that are frequently chosen by our customers.
YOUR Location!!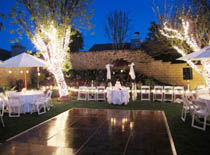 Your home? Your country club? Your boat in the middle of Long Beach harbor? We can coordinate virtually ANY location of your choosing. We have run wedding proposals over yachts in the harbor, Happy Birthday messages over backyard parties, and wedding proposals over piers up and down the California coasts! Tell us where you want us and when you want us there, and there you will find us!!
Festivals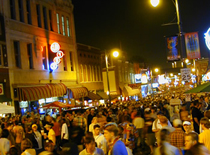 There are various festivals throughout the year in the Southern California area that attract thousands of attendees and enormous potential!! These target-specific festivals provide the opportunity to choose a demographic that is most closely related to your product or service, and to advertise to the crowds at a time when they are enjoying themselves and in the spending frame of mind! These festivals provide an amazing opportunity to market your message to a very targeted audience which is certain to give you an amazing return on your investment. Schedule early. These events sell out quickly!
Freeways & Rush Hour Drive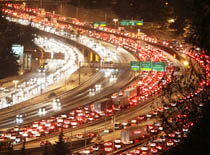 They are sitting there, in bumper-to-bumper traffic, with nothing to do except read your message that has captured their attention. We have been flying sales and branding messages over the California freeways for more than 20 years for some of the biggest and more recognizable brands in the country. They do it year after year, so it must be working. It's a great opportunity to advertise mass transit options for commuters, or to advertise tires, oil changes and new car specials to the thousands that are sitting on the freeways. They know that they need to get these things done, so give them the extra motivation!
Fairs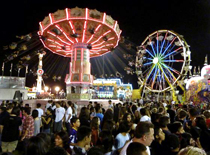 Southern California County Fairs are among the most successful county fairs in the country, and they bring people out in droves! The OC Fair estimates and average daily attendance of 50,000 people per day. The LA County Fair touted a total attendance of 1,374,673 last year, which nets an average daily attendance of almost 60,000 per day. This provides a perfect opportunity to market your product or service to a HUGE local audience all at one time, with a unique advertising method, at a time when they are exactly in the right state of mind. Our customers that have advertised over the southern California Fairs ALWAYS report back a very strong response from their advertising, and often choose to use the service year after year.
Retail Stores & Shopping Malls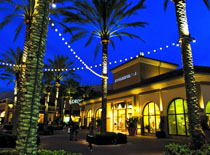 Super Sale! Grand Opening! Happy Hour Specials! You have a captive audience within walking distance of your business. The perfect way to help them make their decision where they will spend their money! It has become increasingly harder to be seen and heard above the crowd. Well now is your chance! You will be both seen and heard above everyone!! Tell them about your 50% off inventory reduction sale, or your 1/2 price entrée offer, or buy-one-get-one-free sale! Telling them while they are within close proximity, and ready to spend...what better time to tell them about what you've got going on!!
Casinos & Night Clubs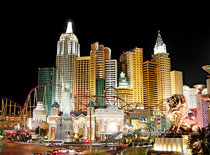 $20 of free play? Loosest slots in town? Ladies night tonight before 10:30? Tom Jones concert tonight at 11? How are they gonna know unless you tell them! Why are they going to choose YOUR casino or club over the others? Most of the people that are in town would love to know about some fun thing to finish off the night, or have a reason to check out your casino instead of the one they are used to going to. The local magazines and advertisements are overwhelming with incentives and things to do, and consumers get lost quickly in that old, tired method of advertising. You'll get instant gratification redirecting people to your club or casino when they see your message flying overhead.
Music Concerts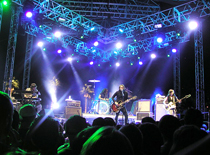 Outdoor concerts are going on just about every weekend during the summer months in SoCal, and there are other great shows all over the west coast periodically throughout the year. This is the perfect occasion to get above a captive audience and tell them about your event, product or service.
Automotive Dealerships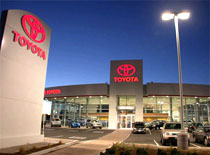 People out looking at cars have already made the decision to buy. Now its your job to get them to buy YOUR brand at YOUR dealership! Lets face it, competition is steep out there. You need to educate and incentivize your customers to close that deal. Running a special about that end-of-year closeout pricing on the coupe, or special financing for 60 months for this weekend only are great enticements that will pull them off of your competitors lots, and bring them to yours!
Trade Shows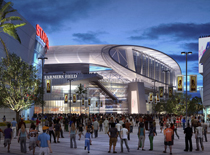 Trade shows are that occasion where you MUST capture your customers attention. During the show, attendees are overwhelmed with lights, noise, gimmicks, models, and just about everything else you can imagine. Some of the most effective and impactful business is done AFTER show hours at the nightly parties, where you get a more controlled, relaxing and enjoyable setting to connect with your customer and allow them to be a part YOUR experience, and become more connected with your company. Using the AirLights to broadcast your message to this highly attentive audience is the perfect way to make a new product announcement, drive them to your booth location, or thank them for an amazing year of results. This unique method will surely be the talk of the show the next day, and will leave a lasting impression from night before.
Restaurants & Hotels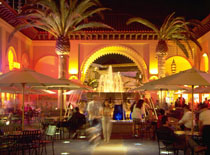 Restaurants and Hotels afford the opportunity for the perfect surprise! Enjoy your dinner or quiet night alone in the hotel, and make your way to the balcony of the room with a clear view of the night sky to surprise that special someone with a love note in the sky. This gives you that perfect setting of one-on-one privacy, along with a palette big enough for the world to see!
Sporting Events*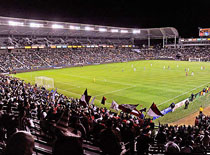 Sporting events are essentially a captive audience, highly receptive to the right advertising offer. These events can range from local high school events to professional events. Millions of dollars are spent at sporting events, and for good reason...because its effective. In these post 9/11 times that we are living in now, there are limitations imposed on certain venues. Major sporting events such as MLB, NFL, NBA, NASCAR and some other high attendance events and stadium are restricted while games are going on, which requires us to stay 3 miles away, or fly overhead above 3,000 ft. This is not the most optimum altitude for us, however, if you are heart set on talking to that crowd, it can be done!
Corporate Gatherings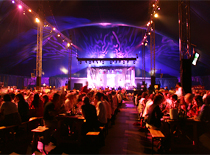 Corporate gatherings offer the perfect opportunity to show your appreciation to your customers or employees with that special message. Announce the annual sales target that has been exceeded, a new product launch, or give that salesperson of the year that special acknowledgment they deserve with their name in lights for the entire company to see! That should excite the others to want that same recognition next year!
Parties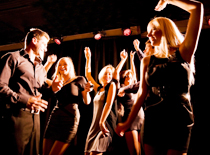 Looking for a unique way to blow your guests away? Want that NEW way to tell that special someone "Happy Birthday", "Congratulations", "Good Luck" or "Welcome Home!"? Your party can be the talk of the town and create the perfect accent that guarantees the jaw-dropping reaction you've been searching for. Everyone is always looking for that new way of saying it bigger and better, and more uniquely; and that is exactly what you'll deliver! Display their message in scrolling & flashing lights 1,000ft in the sky!
Community Events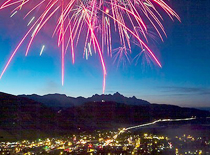 Community events provide the ultimate platform for you to advertise your local business to locals. Most community events attract people that live and work within the same community, and that are interested in learning about other local businesses and community events. This is a very targeted audience that provides amazing opportunity.
Beaches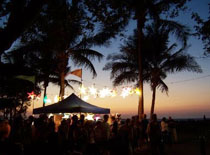 Beach events or piers provide the perfect backdrop for your AirLights message. The dark night sky above the ocean, void of any other distractions, allows your message to command their undivided attention. The sound of the airplanes engine and the brilliance of the scrolling and flashing lights will call their attention skyward and deliver your message in a memorable, impactful way.
Real Estate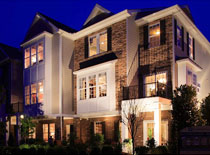 Got that listing that deserves special attention? Want to show your clients you'll do whatever it takes to sell their home? Run their listing over local community events, fairs, festivals or local hot spots and high traffic shopping areas telling potential buyers about the amazing home of their dreams!!